I'm not a person who typically eats many sweets. My sweet tooth was pretty much cured 5 years ago when I took a series of cake decorating classes. Regardless, from time to time when the urge to bake strikes, I will bake, and indulge.
I'm notorious for finding unusually named recipes and
Hobo Cookies
are no exception. They have no flour so I imagine they are considered gluten-free.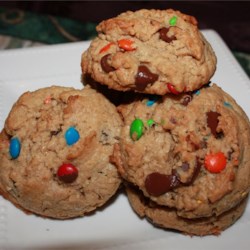 The first thing I noticed was that it made 20 DOZEN cookies (240!!!) ...umm I don't need THAT going from my lips to my hips, so I reduced the recipe substantially! The next thing I noticed was the unusual (translate that to WRONG) quantity of ingredients listed.
I knew that I would have to re-formulate the recipe for it to work.
Changes are as follows (this is for the FULL batch!).
6 eggs *
4 cups packed brown sugar
1 tablespoon light corn syrup**
2 cups butter
3 cups peanut butter
12 cups rolled oats
3 cups semisweet chocolate chips
2 cups m&m's ***
Beat together the eggs, sugars, butter, vanilla, and peanut butter. Add the baking soda, and beat well. Stir in the oats, chocolate chips and M&M candies.
Place dough by tablespoonfuls on parchment lined cookie sheets. Bake at 350° F (175°C) for 10 minutes. DO NOT OVERBAKE!!!!!!
*The egg quantity may be increased to a total of 8 eggs if it looks TOO crumbly.
** I left out the corn syrup, I don't think it would enhance the recipe at all
*** I suggest using the mini m&m's baking pieces.